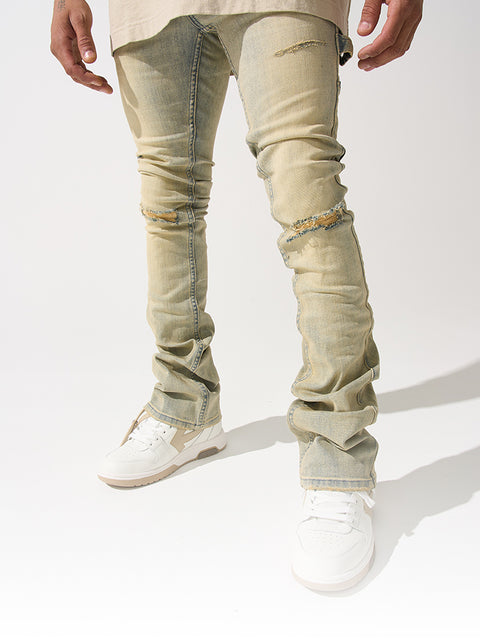 [ STACKED & FITTED ]
Introducing the newest SERENEDE® stacked silhouette with a wider leg opening.
Stay on top of the latest fashion trend with this stylish denim from a trusted source.
Experience the perfect blend of comfort and style.
Shop STACKED JEANS
WHAT PEOPLE ARE SAYING
Perfect jeans
I'm a big guy so finding jeans that fit and fit with style is hard, but i saw the IG post about serenede jeans and let me tell you!!! That's my go to website from now on to get my jeans. They fit perfect, the ankle part of the jeans aren't loose or baggy but also not too skinny n tight which is great. I wear a 44 jeans but the way these fit and have a little stretch to them i can do a 42. Highly recommend
- Jessie Y.
Only Will Buy Serenede!
I'm absolutely in love with this company! Hands down, some of the best looking and very affordable designer pants you can purchase. So many designs and options to choose from. Very modern with excellent quality, look and feel, with a wide variety of options to choose from. Mati is a great choice to pick, especially if your brand new to purchasing your very first pair of Serenede pants! Mati being your most "common" blue jeans look, goes well with almost any pair of shoes, shirts, hoodies and sweatshirts. Very comfortable, excellent quality and has a really unique blue/grey "fire" design on them. Really makes them stand out than your normal pair of blue jeans. Highly recommend!
- Brandon C.
SERENEDE® definitely live up to the hype!
I used to buy my jeans from different stores til I was recommended Serenade Jeans! Before buying, I watched youtube videos and read reviews. I'm 5'6.. 146 pounds.. and normally would buy size 30s in jeans but I didn't want my jeans too tight so I bought a size up to 32 LESS SNUG and my jeans are PERFECT. The quality is good, details, and they fit just right! They're stretch jeans and naturally tight so go a size up. Don't hesitate to buy these jeans. They're worth the cost. For now I'm buying these jeans.
- Brandon J.
Great Rating
Great fit, Great quality, Great delivery time. Overall just a great company that's provids high quality products. The company even shouted me out on sociali media for purchasing they're products. PLEASE GO SHOP!
- Kevin W.
Excellent jeans
I have 6 pairs of Serenede jeans and I plan on buying ore soon! Fabric is amazing and keeps me fresher than my peers
- Henry M.
jeans
best jeans i ever purchased so i had to buy more they jeans fit perfect. good quality nice thick denim also with good stretch.
- Jayden C.
Best Stacked Jeans!
They Fit True To Size , Very Comfortable & Look Good With Any Sneakers !
- Christopher D.
Seafoam jeans
I'm not going to sit here and lie and say the Jean's on this sight is trash because they're entirely the opposite. The shipping was amazing and the looks and feeling of the Jean's as well. I give them a 10/10 and I will be shopping here again
- Dan M.
First Time Customer
First time ordering from them. Ad kept popping up and kept seeing their jeans on smaller store pages so I decided to try them out. Took the advice and ordered a size up. Order came within the time frame and I was surprised by how good of quality the jeans are definitely worth the price and hype. Will definitely be ordering more!
- Jeremy T.
Tough!
I was skeptical at first before buying but once I received them and wore them out , I got so many complements and they're super comfortable
- Daquan D.
Great Quality
The quality, feel, and fit if these jeans are exceptional. Trust me when I say you won't be disappointed.
- Willie R.
I used to be sketched out about this website because it was an "Instagram store" or very to good to be true but I took the risk and I don't regret it these jeans are literally the best jeans I've ever worn , I've bought up to 2 pairs of the same jeans just because how comfortable they are , the price is sometimes to much but I promise they're worth it.
- Andrew N.